Local Dog Friendly Parks/Activities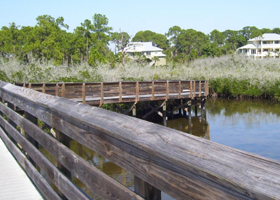 Ann Dever Memorial Regional Park
Englewood, FL
Ann Dever Memorial Regional Park has over 420 acres of land, 50 acres for active use, 120 acres of environmental land, 136 acres north of the creek and 115 acres dedicated to Cedar Point Environment Park.
Ann Dever Memorial Regional Park is a sanctuary of old growth pines, scrub habitat and mature pine flatwoods with mangrove fringe along Oyster Creek. An observation platform and the boardwalk crossing Oyster Creek displays the variety of birds that utilize Oyster Creek and the surrounding mangroves." (For their own safety from predators, dogs must be leashed on the trail.)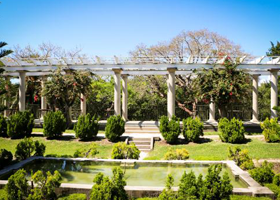 Historic Spanish Point
Osprey, FL
A complex, thirty-acre outdoor museum, Historic Spanish Point is dog-friendly! The museum features shaded nature trails and beautiful views of Little Sarasota Bay. Leashed dogs are welcome to discover the four main elements of Spanish Point: prehistory, pioneers, Palmer, and plants. Historic Spanish Point even offers a specialized tour for canine companions called Pups and Plants. The museum asks that dog owners keep their pet on a 6′ non-retractable leash, bring plenty of water, only bring pets with up-to-date vaccinations, clean up after them, and stay on the paths. Historic Spanish Point is open Monday through Saturday from 9am to 5pm and Sunday from 12pm to 5pm. Admission is $12 for adults, $5 for children, $10 for seniors, and $10 for military personnel.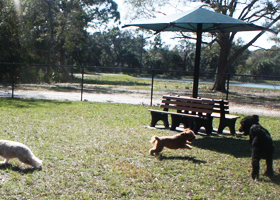 Blue Heron Dog Park
Venice, FL
The 33-acre park includes 2 miles of walking and running trails, areas for bird watching and a dog park. Designed to be environmentally friendly, the park was made with sustainable features, such as solar power and recycled building materials. The park is located at 501 N. River Road, Venice.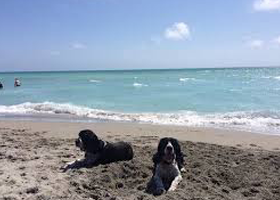 Brohard Paw Park
Venice FL
The only dog-designated beach in Sarasota County.  Small and large dog park with fountains, shower, picnic tables, and benches.  Fenced walkway leads to dog-friendly beach.
Have questions about our services?